Adash A3716 3U Online Monitoring System
SKU:

60000070000
Category: Adash
16 channels AC
16 channels DC
4 TACHO inputs
16 BNC buffered outputs of signals from sensors
16 programmable relays outputs
16 programmable 4-20 mA outputs
The A3716 is powerful online monitoring and diagnostics system designed to increase the reliability of strategic rotating machinery. The A3716 system can operate as an independent monitoring system or it can be used as extension of an existing protection system.
The A3716 system can be also used as the multipurpose 16-channel analyzer. Each A3716 module contains 16 AC, 16 DC and 4 TACHO inputs. All channels are measured simultaneously. The measurement parameters and data processing are the same as with our portable 4 Channel A4400 SAB – VA4 Pro instruments.
You can expand by adding a 64 channel multi-plexor or running more than one 16 channel unit in parallel off the same software. Data logging for condition monitoring can be accomplished by adding DDS2011 software to host server or computer.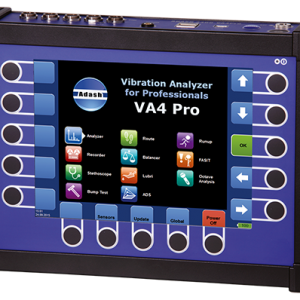 Adash
4 Channel Analyzer
VA4PRO Unit only. Comes with leather cover, shoulder strap, charger. Add cables, sensors, carrying case and software options as needed. [progress_bar percentage="100" name="" value="" type="progress-striped active" colour="#e8e8e8"] [sf_button colour="accent" type="bordered" size="large" link="tel:+18447772722" target="_blank" icon="fa-phone-square" dropshadow="no" rounded="no" extraclass=""]FOR MORE DETAILS CALL 844 777 2722[/sf_button] [sf_button colour="accent" type="standard" size="large" link="/contact/" target="_blank" icon="sf-im-right" dropshadow="no" rounded="no" extraclass=""]TALK WITH AN EXPERT[/sf_button]