Adash A3900 Single Channel Online Monitoring Unit
1 Channel Online System
The A3900 is a simple one channel online monitoring system. Measured value is displayed on the front panel and transferred to the control system through the 4-20 mA current loop output. The A3900 unit includes one programmable output "ALARM" relay.
FOR MORE DETAILS CALL 844 777 2722
TALK WITH AN EXPERT
SKU:

60000050000
Category: Adash
Single channel online monitoring unit
1 channel, selectable value: [mm/s] / [ips] / [g]
Display of values
4-20 mA current loop output
Relay output
Setup by PC
The Adash 3900-II is a simple tool for vibration measurements, intended for process control and reliability systems, machinery protection systems and generally for most applications concerning the maintenance and monitoring of machinery.
Thus, a large variety of applications are possible for motors, fans, pumps, gearboxes, small turbines, bearing diagnostics etc.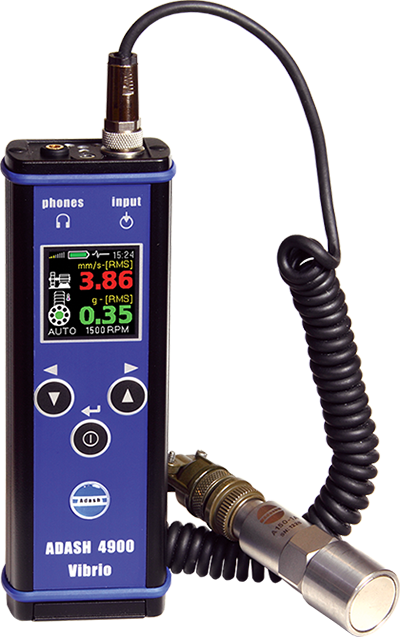 Adash
Vibration Meter and Data Collector
Portable vibration meter/instrument with 4 MB memory and free version of DDS2014 Diagnostics Software. Hard-shell case includes cable, accelerometer, earbuds, motor fin tip probe, AA batteries. Comes with preloaded FASIT Diagnostics and ISO Alarm options. Provides readouts in Velocity, Acceleration, Displacement. Infrared temperature sensor and display. Strobe included for rpm detection of equipment.
$

3,994.99