Adash A3900 Single Channel Online Monitoring Unit
1 Channel Online System
The A3900 is a simple one channel online monitoring system. Measured value is displayed on the front panel and transferred to the control system through the 4-20 mA current loop output. The A3900 unit includes one programmable output "ALARM" relay.
FOR MORE DETAILS CALL 844 777 2722
TALK WITH AN EXPERT
SKU:

60000050000
Category: Adash
Single channel online monitoring unit
1 channel, selectable value: [mm/s] / [ips] / [g]
Display of values
4-20 mA current loop output
Relay output
Setup by PC
The Adash 3900-II is a simple tool for vibration measurements, intended for process control and reliability systems, machinery protection systems and generally for most applications concerning the maintenance and monitoring of machinery.
Thus, a large variety of applications are possible for motors, fans, pumps, gearboxes, small turbines, bearing diagnostics etc.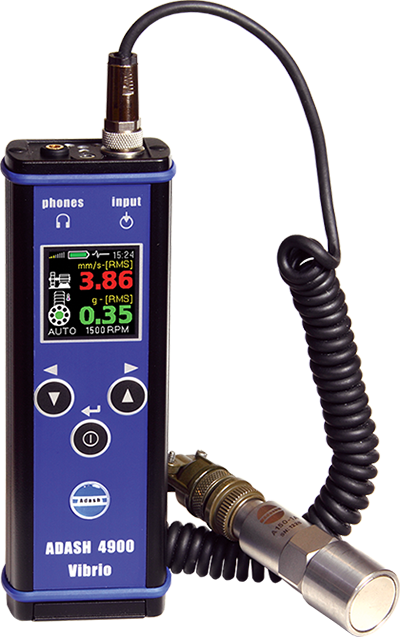 Adash
Vibration Meter and Data Collector
Vibrio Portable vibration meter/instrument with accelerometer, cable, AA batteries. Comes with preloaded FASIT Diagnostics and ISO Alarm options. Provides readouts in Velocity, Acceleration, Displacement plus infrared temperature sensor with readout. Hard-shell case includes cable, accelerometer, earbuds, motor fin tip probe. Meter only, no memory or software interface.
$

3,494.99