Adash A4300 VA3 PROCM Professional Analyst Version
2 Channel Vibration Analyzer
This package has almost all options. Designed for the professional analyst that will do route based condition monitoring and balancing. Includes balance package, DDS2014 data diagnostics software license, spare battery, headphones, carrying case.
FOR MORE DETAILS CALL 844 777 2722
TALK WITH AN EXPERT
SKU:

60000040000
Category: Adash
2 channel vibration analyzer
Ideal for route measurement
Long lasting battery
Low weight 780 g (1.27 lb)
Route memory: 8 GB
Colour display 240 x 320 px
The A4300 VA3 Pro is the newest addition to our range of portable devices for vibration diagnostics. There are 2 signal inputs and 1 tacho/trigger input. Input 2 offers connectivity to a triaxial sensor, therefore all 3 channels can be measured simultaneously.
The expert system developed by Adash can automatically detect machine faults such as unbalance, looseness, misalignment and bearing faults. There is a non-contact IR temperature sensor (for immediate bearing temperature measurement) and a LED stroboscope/torch.
The A4300 VA3 Pro is designed for one-handed operation. With a weight of just 780 g and a battery life of more than 10 hours of operation, the unit is suitable for long route measurements.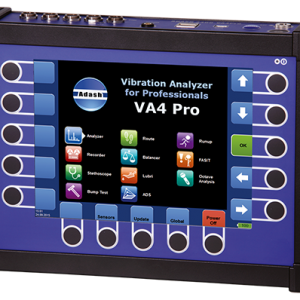 Adash
Kit for Balancing
Added options include: Laser Tacho Strobe, Strobe Cable, Magnetic Base for Strobe, Reflective Tape. Two (2) each of the following: Standard Accelerometer, 6 ft. Coiled Sensor Cable, Curved Mag. Sensor Base, Flat Mag Sensor Base. Hard-shell Equipment Case. DDS2014 condition monitoring software is not included. [progress_bar percentage="100" name="" value="" type="progress-striped active" colour="#e8e8e8"] [sf_button colour="accent" type="bordered" size="large" link="tel:+18447772722" target="_blank" icon="fa-phone-square" dropshadow="no" rounded="no" extraclass=""]FOR MORE DETAILS CALL 844 777 2722[/sf_button] [sf_button colour="accent" type="standard" size="large" link="/contact/" target="_blank" icon="sf-im-right" dropshadow="no" rounded="no" extraclass=""]TALK WITH AN EXPERT[/sf_button]