Adash A4400 PBL VA4PRO
Kit for Balancing
Added options include: Laser Tacho Strobe, Strobe Cable, Magnetic Base for Strobe, Reflective Tape. Two (2) each of the following: Standard Accelerometer, 6 ft. Coiled Sensor Cable, Curved Mag. Sensor Base, Flat Mag Sensor Base. Hard-shell Equipment Case. DDS2014 condition monitoring software is not included.
FOR MORE DETAILS CALL 844 777 2722
TALK WITH AN EXPERT
SKU:

60000100000
Category: Adash
4 channels simultaneously
FFT 3 276 800 lines in real time
Frequency range up to 90 kHz
35 hours recording of 4 channels
ISO 10816-3 included
Bearing database included
Input for triaxial sensor
ACMT – very low speed bearing analysis
User defined frequency bands
VA4Pro is a portable four channel signal analyzer with onboard software that enables it to function as a Data Collector, Run-up Analyzer, Balancer, Recorder, Stethoscope, and Octave analyzer in one unit. Also includes the FASIT Machine diagnostics software and Lubri machine lubrication software.
This powerful unit has advanced capabilities to record vibration data at 64kHZ sample rate for post analysis making it ideal for transient, run-up, coast down and acceptance test data collection. Fifth channel is provided for tachometer or other trigger input.
With optional BNC Junction box the unit can monitor 4 channels AC and 4 channels DC for simultaneous data acquisition.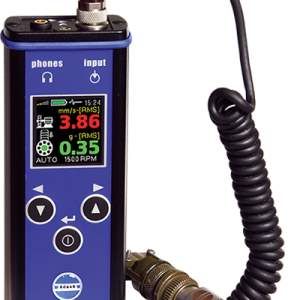 Adash
Vibration Meter and Data Collector
Vibrio Portable vibration meter/instrument with accelerometer, cable, AA batteries. Comes with preloaded FASIT Diagnostics and ISO Alarm options. Provides readouts in Velocity, Acceleration, Displacement plus infrared temperature sensor with readout. Hard-shell case includes cable, accelerometer, earbuds, motor fin tip probe. Meter only, no memory or software interface.

$

3,494.99