Adash A4404 CM SAB
SKU:

60000130000
Category: Adash
Analyzer
Route
Run up/Coast down
Recorder
Balancer
FASIT – Expert system
Stethoscope
Lubri
Octave analysis
Bump test
ADS (Animated Deflection Shapes)
The A4404 – SAB (Signal Analyzer Box) is a pocket size 4 channel vibration analyzer.
Connect the A4404 – SAB to any computer by USB and use the unit for data analysing, collecting and the recording of vibration signals.
Install Virtual Unit sofrware to get all the functions of A4400 VA4 Pro analyzer.
The instrument is powered directly by USB connection so no external power is needed.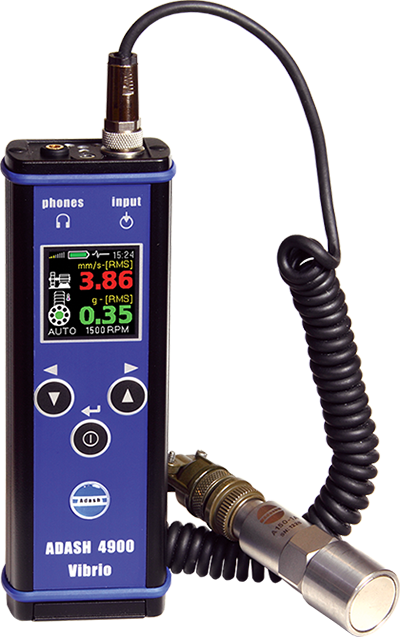 Adash
Vibration Meter and Data Collector
Portable vibration meter/instrument with 4 MB memory and free version of DDS2014 Diagnostics Software. Hard-shell case includes cable, accelerometer, earbuds, motor fin tip probe, AA batteries. Comes with preloaded FASIT Diagnostics and ISO Alarm options. Provides readouts in Velocity, Acceleration, Displacement. Infrared temperature sensor and display. Strobe included for rpm detection of equipment.
$

3,994.99