Adash A4900 Vibrio MP Pro Unit
Vibration Meter and Data Collector
A4900 Vibrio MP Portable Vibration meter / Data collector – Upgraded to pelican type transport case, leather instrument carrying holster and industrial grade headphones. Also contains the instrument, accelerometer, cable, magnetic base, motor fin probe and 2 AA batteries. Unit comes with 4 MB Memory for data storage. Free version of DDS2014 Software enables full analysis capabilities and route generation for condition monitoring of rotating equipment. This model allows for sensor power off function so that data can be collected from monitoring systems with their own power and buffered outputs probes.
SKU:

60000190000
Category: Adash
All basic vibrodiagnostics measurements:
Overall values, Time signal, Frequency bands, FFT Spectrum, Route measurement
4 MB memory for data storage
Detects unbalance, loosenes, misalignment or bearing faults
ISO 10816-3 included
8 hours of operation
Stroboscope LED-lamp for machine check
The A4900 Vibrio M is a vibration meter, data collector and analyzer. It is supplied as a complete system including quality piezoelectric sensor, magnet and coiled cable for industrial use.
The A4900 – Vibrio M instrument allows you to perform all basic vibro-diagnostics measurements. It is equipped with 4 MB of memory for data storage. Data memory allows you to perform off-route and route measurements (the instrument without memory feature is still available for lower price.)
The professional software DDS for Vibrio M can be downloaded from the Adash website free of charge. Adash expert system for automatic machine fault detection is included.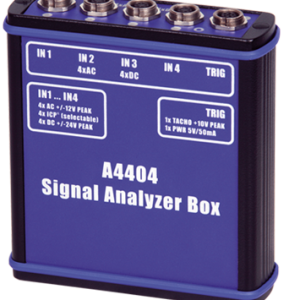 Adash
Condition Monitoring Software Package
Additional options include DDS2014Pro Software for route and condition monitoring, One accelerometer, 6 ft. coiled sensor cable, flat and curved magnetic sensor bases. [progress_bar percentage="100" name="" value="" type="progress-striped active" colour="#e8e8e8"] [sf_button colour="accent" type="bordered" size="large" link="tel:+18447772722" target="_blank" icon="fa-phone-square" dropshadow="no" rounded="no" extraclass=""]FOR MORE DETAILS CALL 844 777 2722[/sf_button] [sf_button colour="accent" type="standard" size="large" link="/contact/" target="_blank" icon="sf-im-right" dropshadow="no" rounded="no" extraclass=""]TALK WITH AN EXPERT[/sf_button]