Adash A4910 Lubri
Machine Lubrification Monitoring System
Portable instrument for lubrication control – kit in carton box contains the instrument, accelerometer, cable, magnetic base, earphones, grease gun mount, 2 AA batteries (grease gun NOT included). Free version of DDS2014 Trending software for route based measurements of overall Acceleration and Velocity values!
SKU:

60000210000
Category: Adash
Increase bearing lifetime
Basic vibrodiagnostics measurement
Monitoring and control of lubrication process
Stethoscope function – "listening of machine noise"
Values in traffic light colours tells you when to add the grease
The A4910 Lubri is a maintenance tool used for monitoring and control of the lubrication process. The A4910 Lubri measures the actual bearing lubrication status and informs the operator when the lubrication state is optimal.
Application of the A4910 Lubri extends the bearing lifetime and saves lubricants. Headphones can be connected to listen to the bearing condition. The A4910 Lubri is simple to operate and also enables you to perform basic measurements and diagnosis of bearing condition.
The A4910 Lubri can store the data and perform route measurements as well.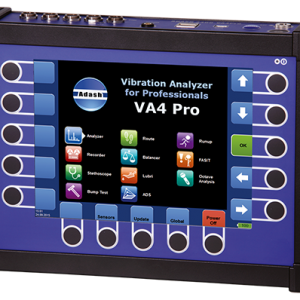 Adash
4 Channel Analyzer
VA4PRO Unit only. Comes with leather cover, shoulder strap, charger. Add cables, sensors, carrying case and software options as needed. [progress_bar percentage="100" name="" value="" type="progress-striped active" colour="#e8e8e8"] [sf_button colour="accent" type="bordered" size="large" link="tel:+18447772722" target="_blank" icon="fa-phone-square" dropshadow="no" rounded="no" extraclass=""]FOR MORE DETAILS CALL 844 777 2722[/sf_button] [sf_button colour="accent" type="standard" size="large" link="/contact/" target="_blank" icon="sf-im-right" dropshadow="no" rounded="no" extraclass=""]TALK WITH AN EXPERT[/sf_button]