Castle Group Exilis GA2008
Pocket Vibration Meter
Often, what you need to get a job done is a tool that will do that job! This is where the Exilis by Castle Group offers great power and flexibility for the measurement of the vibration from plant and machinery.
This monitoring can be used to assess the condition of machine components by monitoring the vibration level from repeated measurements over time. The ability to monitor the changing vibration over time allows pro-active maintenance to be planned, reducing the risk of component failure and un-planned production downtime.
FOR MORE DETAILS CALL 844 777 2722
TALK WITH AN EXPERT
Single Axis vibration Measurements
Large Dynamic Range
Long battery life
Simple menu operation
Clear LCD Display
Memory for storage of last 9 measurements
Rugged Accelerometer and Cable for industry
Tough case and connectors for demanding environments
This pocket sized instrument allows you to take the type of measurement you want with virtually no setup. In other words, you switch it on and because the unit remembers how it was last used – away you go.
The supplied spike probe facilitates quick measurements without the need to fasten or attach the accelerometer; you simply press the probe onto the measurement point and take the reading.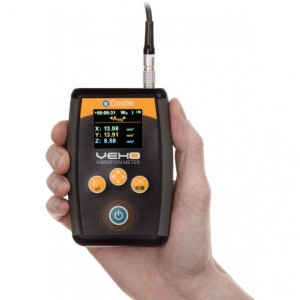 Castle Group
Hand Arm Vibration Meter
Quick, reliable measurements are all-essential when it comes to the assessment of Hand Arm Vibration and the Vexo H has been specifically designed to make the job as simple as possible.
The small size, combined with a powerful processor and large memory will enable Safety Professionals to take Hand Arm Vibration to the next level.With a large colour screen and the support of VibdataPro PC software, the Vexo H requires virtually no set-up so power it on, press record and that's it! Just about everything from here is available to view directly on the screen without the need for scrolling and data can be reviewed directly to the screen. [progress_bar percentage="100" name="" value="" type="progress-striped active" colour="#e8e8e8"] [sf_button colour="accent" type="bordered" size="large" link="tel:+18447772722" target="_blank" icon="fa-phone-square" dropshadow="no" rounded="no" extraclass=""]FOR MORE DETAILS CALL 844 777 2722[/sf_button] [sf_button colour="accent" type="standard" size="large" link="/contact/" target="_blank" icon="sf-im-right" dropshadow="no" rounded="no" extraclass=""]TALK WITH AN EXPERT[/sf_button]

$

2,567.00