Castle Group KA020
Weatherproof Sound Meter Enclosure
The Castle Weatherproof Sound Meter enclosure is designed to make short–to–medium–term outdoor noise monitoring simple and effective.
Dedicated to the Castle SONUS 'L' or 'E' Data-logging sound meters, this box opens up a huge range of possibilities for longer term monitoring both indoors and out. And what is more, it weighs less that 5Kg's, so is one of the lightest environmental noise monitors in the world!
FOR MORE DETAILS CALL 844 777 2722
TALK WITH AN EXPERT
Over 170 hours run time and 15 hour charge time for internal batteries
Available for SONUS 'L' or 'E' models of Sound Level Meters
Tough, weatherproof case withstanding 900Kg loads.
External weatherproof connectors
'Hot-swap' for battery replacement in the field without turning off the sound meter
Available in Yellow or Black.
Security kit available
Ideal for boundary noise measurements, Night time Noise Levels and general consultancy work, the enclosure operates from an internal battery pack which will run the data-logger for over 170 hours of continuous use. The battery can even be 'hot-swapped' using a second set of power cables, giving un- interrupted operation even during battery changeover.
There is a weatherproof connector on the outside of the case that allow access to the instrument's microphone connection. A choice of two weather- proof microphone enclosures is available for either occasional or longer-term outdoor use. These connect to the case via weatherproof cabling and details are overleaf.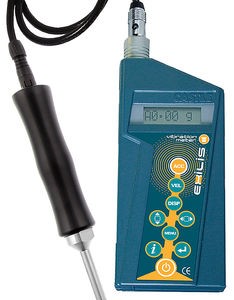 Castle Group
Pocket Vibration Meter
Often, what you need to get a job done is a tool that will do that job! This is where the Exilis by Castle Group offers great power and flexibility for the measurement of the vibration from plant and machinery.
This monitoring can be used to assess the condition of machine components by monitoring the vibration level from repeated measurements over time. The ability to monitor the changing vibration over time allows pro-active maintenance to be planned, reducing the risk of component failure and un-planned production downtime. [progress_bar percentage="100" name="" value="" type="progress-striped active" colour="#e8e8e8"] [sf_button colour="accent" type="bordered" size="large" link="tel:+18447772722" target="_blank" icon="fa-phone-square" dropshadow="no" rounded="no" extraclass=""]FOR MORE DETAILS CALL 844 777 2722[/sf_button] [sf_button colour="accent" type="standard" size="large" link="/contact/" target="_blank" icon="sf-im-right" dropshadow="no" rounded="no" extraclass=""]TALK WITH AN EXPERT[/sf_button]

$

997.00