Castle Group Sonus Model E GA116E
Environmental Sound Level Meter Class 1
This instrument boasts an impressive noise floor reading allowing for the measurement and recording of low level ambient noise.
The instrument is a full data logging and integrating sound level meter with a total linear measurement span of 108dB. Never before has such a credible and high performing environmental sound level meter been available at such affordable prices.The meter measures 3 percentiles one of which is user selectable plus the meter features dual measurement, so two versions of most parameters can be measured simultaneously.
FOR MORE DETAILS CALL 844 777 2722
TALK WITH AN EXPERT
Measures Lp, Leq, Lmax, LE, L10, L90, L(user)
Measures parameters simultaneously including
LAeq and either LZeq or LCeq
Under range and Overload indicators
A, C or Z frequency weighting selection
A, C or Z Peak measurements
'Slow', 'Fast' and 'Impulse' time weighting selection
Save results to internal flash memory
Download data to a PC via a USB connection
Noise Analysis Software included with the meter
Small and light weight, fits into small shirt or jacket pocket and also supplied with a strong pocket clip
Lockable Key pad through options
Single battery operation of typically 12 hours
Weatherproof kit option
All measured values can be saved to the internal flash memory of the Sonus GA116E for subsequent output. The results can be viewed on the instruments own display or downloaded to the included dBdataLITE noise analysis PC software via a high speed USB connection.
Using the instruments could not be simpler. The simple user interface can easily be scrolled and selected to immediately display the information you need. The keypad also has a dedicated dB Range key, simply press and then select your required range.
The measured noise is computed and stored as a series of pre-chosen time intervals. The GA116E instrument will store up to approximately 2100 intervals in either one or multiple recordings.
Each instrument is supplied with a comprehensive printed user manual and a getting started sheet.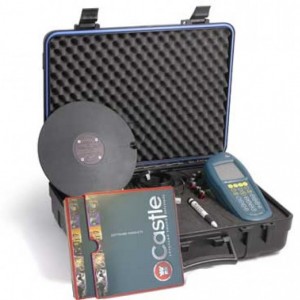 Castle Group
Human and Environmental Single Axis VIbration Meter
The Pro-DX Excieo range of vibration meters brings to you unrivalled power and usability.
With Parallel tri-axial measurement, Multiple measurement parameters and just about all the frequency weighting curves you will need, vibration measurement technology for a plethora of applications has finally arrived! [progress_bar percentage="100" name="" value="" type="progress-striped active" colour="#e8e8e8"] [sf_button colour="accent" type="bordered" size="large" link="tel:+18447772722" target="_blank" icon="fa-phone-square" dropshadow="no" rounded="no" extraclass=""]FOR MORE DETAILS CALL 844 777 2722[/sf_button] [sf_button colour="accent" type="standard" size="large" link="/contact/" target="_blank" icon="sf-im-right" dropshadow="no" rounded="no" extraclass=""]TALK WITH AN EXPERT[/sf_button]

$

2,110.00