Delta Ohm HD 2114B.0
Micromanometer, Datalogger
The HD2114.2, HD2134.2, HD2164.2 and HD2114B.2 instruments are dataloggers.
They memorize up to 36,000 samples, which can be transferred from the instrument connected to a PC via the RS232C serial port or USB 2.0 port. The storing interval, printing, and baud rate can be configured using the menu.
FOR MORE DETAILS CALL 844 777 2722
TALK WITH AN EXPERT
The Max, Min and Avg function calculates the maximum, minimum or average values
The Peak function can be activated with external probes connected to the module PP471 and detects the presence of pressure peaks
Other functions include the relative measurement REL, the HOLD function, and the automatic turning off which can also be disabled
The instruments have IP66 protection degree
Pressure is measured using an internal differential module that compares the atmosphere with bottom of a fixed scale. With the PP471 module acting as an interface, the instrument can use all the TP704 and TP705 series Delta Ohm probes to perform the measurements. The HD2114B.0 and HD2114B.2 internal module measures the barometric pressure.
The temperature is detected using immersion, penetration, contact or air probes, with SICRAM module or direct 4-wire probes. The sensor can be a Pt100, Pt1000 or Ni1000. The temperature probes are fitted with a SICRAM module, with the factory calibration settings already being memorized inside. On being turned on the instrument automatically detects these settings.
The HD2114.2, HD2134.2, HD2164.2 and HD2114B.2 instruments can transfer via the RS232C serial port the acquired measurements to a PC or to a portable printer in real time.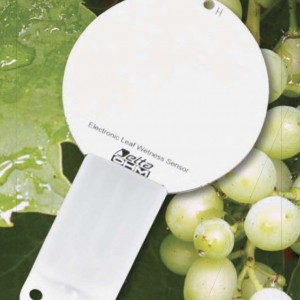 Delta Ohm
Leaf Wetness Sensor
The HD3901 leaf wetness sensor detects the presence of condensation on its sensitive surface and has been designed to reproduce in an extremely accurate way the thermodynamic behaviour of a leaf. The leaf wetness degree is a basic information in the agricultural and floriculture fields to determine the most appropriate phytosanitary treatment to prevent mould and fungal infections in general that can affect the plants and crops in the presence of condensation on the leaves. [progress_bar percentage="100" name="" value="" type="progress-striped active" colour="#e8e8e8"] [sf_button colour="accent" type="bordered" size="large" link="tel:+18447772722" target="_blank" icon="fa-phone-square" dropshadow="no" rounded="no" extraclass=""]FOR MORE DETAILS CALL 844 777 2722[/sf_button] [sf_button colour="accent" type="standard" size="large" link="/contact/" target="_blank" icon="sf-im-right" dropshadow="no" rounded="no" extraclass=""]TALK WITH AN EXPERT[/sf_button]

$

143.00