Delta Ohm HD 52.3 D
2 Axes Ultrasonic Anemometer
2 axes ultrasonic Anemometers series HD 52.3D…. The instruments of the series HD52.3D… are 2 axes ultrasonic static anemometers for measuring:
– Wind speed and direction, U-V Cartesian components of wind speed
– Relative Humidity and Temperature (optional, code '17')
– Diffuse Solar Radiation (optional, code 'P')
– Barometric pressure (optional, code '4')
FOR MORE DETAILS CALL 844 777 2722
TALK WITH AN EXPERT
The absence of moving parts minimizes maintenance
High sensivity for detecting very low speeds, which are not detectable by traditional methods
The low power of the instrument allows installation in remote sites, with power from solar panel and battery
The heating option "R" prevents the accumulation of snow and ice from forming, allowing accurate measurements in all environmental conditions
Fast and easy installation, alignment facilitated by built-in compass
The available measurement options join together in one single, compact and lightweight instrument, the main variables of interest in weather stations
MODBUS-RTU ouptut allows instrument networking
All models are equipped with compass.
RS232, RS485, RS422 and SDI-12 serial interfaces are available with NMEA, MODBUS-RTU and SDI-12 communication protocols.
All versions have two analogical outputs, both for wind speed and for direction, factory configurable among 4÷20mA (standard), 0÷1V, 0÷5V, 0÷10V (to be specified when ordering).
Optionally available, (ACCREDIA) ILAC-MRA traceable factory calibration.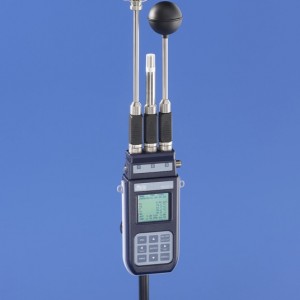 Delta Ohm
Instrument for the Analysis of the Indices: WBGT, PMV, PPD
HD32.3 – WBGT - PMV Index is an instrument made by Delta Ohm Srl for: - Analysis of hot environments using WBGT index (Wet Bulb Glob Temperature: wet bulb temperature and Globe thermometer) in presence or absence of solar radiation - Analysis of the moderate warm environments using PMV index (Predicted Mean Vote) and PPD index (Predicted Percentage of Dissatis ed) [progress_bar percentage="100" name="" value="" type="progress-striped active" colour="#e8e8e8"] [sf_button colour="accent" type="bordered" size="large" link="tel:+18447772722" target="_blank" icon="fa-phone-square" dropshadow="no" rounded="no" extraclass=""]FOR MORE DETAILS CALL 844 777 2722[/sf_button] [sf_button colour="accent" type="standard" size="large" link="/contact/" target="_blank" icon="sf-im-right" dropshadow="no" rounded="no" extraclass=""]TALK WITH AN EXPERT[/sf_button]

$

1,235.00