TTA Count
Real Time Traffic Monitoring Device
TTA Count powered by ARMM™ traffic technology allows for real-time monitoring and analysis of traffic.
Weatherproof durable design coupled with sophisticated monitoring software allows for creation of customized reports and data flow. TTA Count supports multiple locations and transmits data remotely making this solution ideal for basic as well as multifaceted projects.
FOR MORE DETAILS CALL 844 777 2722
TALK WITH AN EXPERT
Out of stock
Accurately monitors traffic flow using the ARMM™ traffic technology
Calculates MDT on every lane
May include other environmental measures (noise, vibration, gas and particulate concentration) as part of the TTA Road system
Remote data collection and real-time monitoring
TTA Count
TTA Count powered by ARMM™ traffic technology allows for real-time monitoring and analysis of traffic.
TTA Count gathers data using pneumatic tubes attached to a road surface. Streamlined installation reduces lead-time. ARMM™ has built-in monitors that can pinpoint precise location if the malfunction occurs.
Centralized data center links all sensors to improve efficiency of data management. Recorded data is stored in high capacity local mass memory and is also transmitted in real-time to a central server using a GPRS connection.
Dual data back up ensures no information is lost in case of system interruption. Both permanent and temporary solutions are available to accommodate any level of project complexity. TTA Count can be incorporated into TTA Road system.
Anti-theft system
Traceability (optional)
Multiple pneumatic tube sensors
Traffic volume data analysis
Vehicle speed measurement
Vehicles class and axle identification
Solar panel and rechargeable battery
Anti-vandalism metal structure
| | |
| --- | --- |
| Power | 7…38 V DC |
| Typical / Max consuption | 1W / < 3W |
| Backup power | 5-10 minutes |
| | |
| --- | --- |
| Remote | GPRS; GSM in/out; SMS in /out |
| Local | RS232 in/out; RS485 in/out; Ethernet (RJ45) |
| | |
| --- | --- |
| Analog | 2 inputs |
| Digital | 2 in; 2 out |
| | |
| --- | --- |
| Optical | 1+4 Led, LCD display (optional) |
| Acoustical | Buzzer |
| | |
| --- | --- |
| GPRS/GSM module | Quad-band |
| GPS module | 20 channels |
| Real Time Clock | <1/100s |
| Memory card reader | Micro SD |
| SIM Card Slot | Universal |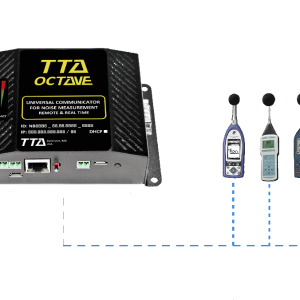 Products
Environmental Noise Monitoring Station
TTA Octave is a technologically advanced noise monitoring station utilized for variety of applications that include airports, roads, railroads, and other commercial needs.
NEW See the newly published video introduction with TTA Octave's interface:
[embed width="480" ]https://youtu.be/dboCjVHZyJw[/embed]
TTA Octave
can be used as a ready-to-go solution or be fully customized by our team to meet all of your project requirements. TTA Octave includes:
One TTA Data datalogger preconfigured for your choosen SLM
On board Web Server secured by password, accessible locally and remotely via Internet
Life long secure VPN Access
1 Month of advanced system at your choice between TTA Fly, TTA Road & TTA Theatre
* Actual number of available parameters depends on SLM Model * No SLM, boxes or poles included unless otherwise specified.
$

1,600.00