Delta Ohm HD 2020
ON-OFF key: turns on and off the instrument. When you turn the instrument on, the display will switch on about three seconds later
SETUP key: allows you to enter and scroll menu. To exit, press it repeatedly until you go back to the standard screen
Display. When you turn the instrument on, it shows all segments on, and then the sound pressure level (94 or 114dB) will appear in standard view
Calibrator cavity for conventional 1/2 inch microphones
"Down" key: in standard mode, it selects 94dB and 114dB pressure levels alternatively. In menu mode, it decreases the current value
"Up" key: in standard mode, it selects 94dB and 114dB pressure levels alternatively. In menu mode, it increases the current value
Battery lid
It allows calibrating 1/2″ microphones with mechanical dimensions compliant with IEC 61094-1 ("Measurement microphones. Part 1: Specifications for working standard microphones"). The calibration pressure levels of 94dB and 114dB can be selected by the keypad. The 1000Hz frequency cannot be changed.
If the microphone is absent or not inserted correctly into the calibrator cavity, the sound level will blink on the display.
To conserve battery life, the instrument is provided with an automatic power off function: if you leave the instrument on with open cavity, it switches off automatically after 30 seconds. If the cavity is closed and the microphone is inserted, the instrument switches off 5 minutes after turning on, provided that you don't press any key.
The calibrator display shows calibration pressure level, battery life, current date and time.
The clock/calendar allows you to set the number of years and months of validity of the calibration from the date of adjusting: at the expiration time, an appropriate symbol flashes on the display.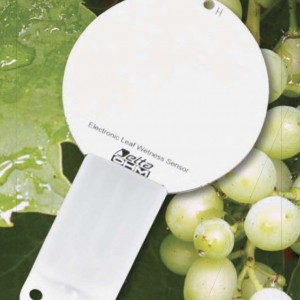 Delta Ohm
Leaf Wetness Sensor
The HD3901 leaf wetness sensor detects the presence of condensation on its sensitive surface and has been designed to reproduce in an extremely accurate way the thermodynamic behaviour of a leaf. The leaf wetness degree is a basic information in the agricultural and floriculture fields to determine the most appropriate phytosanitary treatment to prevent mould and fungal infections in general that can affect the plants and crops in the presence of condensation on the leaves. [progress_bar percentage="100" name="" value="" type="progress-striped active" colour="#e8e8e8"] [sf_button colour="accent" type="bordered" size="large" link="tel:+18447772722" target="_blank" icon="fa-phone-square" dropshadow="no" rounded="no" extraclass=""]FOR MORE DETAILS CALL 844 777 2722[/sf_button] [sf_button colour="accent" type="standard" size="large" link="/contact/" target="_blank" icon="sf-im-right" dropshadow="no" rounded="no" extraclass=""]TALK WITH AN EXPERT[/sf_button]

$

143.00