TTA Data
Datalogger for Environmental Monitoring
TTA Data is a 7th generation data logger powered by nanoARMM technology.
Decades of enhancements and thousands of units sold around the World, TTA Data is the core solution in the TTA line of products and systems. The device is based on Linux, has a strong and lightweight construction and is equipped with multiple connection ports for safe and reliable data transfer.
Embedded ports include Ethernet, Bluetooth, USB, RS232, I2C, SPI, RS485 (including Modbus RTU over RS485), Digital in/out and audio in/out.
Wifi capability via extended standard converters
Analog sampling, digital I/O expansions, and power application relays
Compatible with popular connections like ZigBee
Touch screen LCD
Lifetime VPN connection to TTA cloud
TTA Data
TTA Data is a 7th generation data logger powered by nanoARMM v2 technology.
| | |
| --- | --- |
| Dimensions (L x W x H) | 132.18 x 91.50 x 36.50 mm; 5.20 x 3.60 x 1.43 in |
| Weight | 330 gr; 0.72 lb |
| Operating conditions | -20/60 °C;  -4/140 °F |
| Mounting holes | Download PDF |
Power supply 1: 5Vcc 1A on standard micro USB plug
Power supply 2: 9-24Vcc, 5W on terminal block (plug provided)
10/100 RJ45 Ethernet port
3 x USB 2.0 port
1 x RS232C port (male)
2 x relay output (rated 2A, max 500 V)
MicroSD reader
Mini HDMI video output
Diagnostic leds
PERFORMANCE & DIGITAL INFRASTRUCTURE
Onboard webserver
Locally or remotely accessible
VPN connection
Firmware Over The Air updates
Integrated self diagnostic
Automatic reset of unresponsive external instruments (SLM, modem, router, etc.)
LCD Touch screen
WiFi adapter
3G/4G modem router with APN
RS422 converter
IP webcam for video or image acquisition
| | |
| --- | --- |
| Sound Level Meter Brands | Rion, Bruel&Kjaer, DeltaOhm, Castle Group, Larson Davis, Cirrus, Norsonic |
| Weather stations | TTA ACQ weather data sampler |
| Other sensors | Ultrasonic Anemometers, Particulate Matter Samplers, SunCell Reference Cells, any sensor with open protocol, any sensor with analog or digital output |
Additional Information
| | |
| --- | --- |
| Weight | 2 lbs |
| Dimensions | 7 x 5 x 4 in |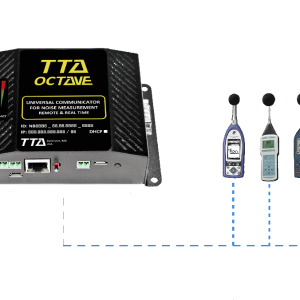 Products
Environmental Noise Monitoring Station
TTA Octave is a technologically advanced noise monitoring station utilized for variety of applications that include airports, roads, railroads, and other commercial needs.
NEW See the newly published video introduction with TTA Octave's interface:
[embed width="480" ]https://youtu.be/dboCjVHZyJw[/embed]
TTA Octave
can be used as a ready-to-go solution or be fully customized by our team to meet all of your project requirements. TTA Octave includes:
One TTA Data datalogger preconfigured for your choosen SLM
On board Web Server secured by password, accessible locally and remotely via Internet
Life long secure VPN Access
1 Month of advanced system at your choice between TTA Fly, TTA Road & TTA Theatre
* Actual number of available parameters depends on SLM Model * No SLM, boxes or poles included unless otherwise specified.
$

1,600.00