TTA Grid
Sound Level Meter Network Management System
TTA Grid is a completely integrated SLM network management system.
Fully scalable, TTA Grid can accommodate any size project or manage any level of complexity. Customized noise acquisition, data analysis, and system management, are all attributes of TTA Grid. Its ability to produce real-time data flow with customized visuals, make it a powerful tool for critical decision-making. Over the decades we enabled our clients to create better safety protocols, efficiencies, and historic analytical data. To obtain highest level of proficiency, TTA grid is commonly paired with TTA Consult.
*Prices are referred to 1 station – For 2 or more stations, please ask for quotation
On-board web server with real time, live charts
Fully configurable by the user: SLM type, parameters to be acquired, sampling time, IP, VPN, DynDNS, personal encrypted keys, user logo
Records continuously all output from the SLM
Battery Monitoring
Detects unauthorized box opening
Copies files on the SD card
Accessible via Ethernet or GPRS
Supported protocols: http, sftp, ssh, scp
Acquires atmospheric pressure thanks to an on-board sensor
All data are processed in accordance with ISO 27001 standard
Seamless access to acquired data of all SLM
State-of-the-art interactive web interface
Provides grouping of SLMs under meaningful networks, which can be managed independently
Download raw data for any SLM, any period of time
Creation of 1-click-to-open Excel files with required indexes
Creation of monthly/yearly reports for single or multiple stations
Fully scalable to any number of SLMs
Secure data transmission over encrypted Virtual Private Network
Hassle-free daily backup of all data
Service and data are hosted on redundant servers to offer maximum uptime
All data is processed in accordance with ISO 27001 standard
TTA Grid is powered by noiSync technology developed by TTA Inc. to manage the most complex SLM projects.
The SLM station, be it a single or a series of units, is how system obtains its information. Placed and connected according to the project design, the real-time data is routed to main server for advanced analysis and network management. Each unit can be independently customized depending on the type of data that needs to captured.  NoiSync datalogger and nanoARMM datalogger used to acquire data and transmit it to server, cloud, or directly onto a USB key.
For additional back up, the acquired data is stored on the internal memory of the data logger and is also made available on main server or the cloud. Real-time live charts are available through the web interface or through a SFTP/SCP access.
Users can manage the system via the local Ethernet port or through a remote GPRS link without physical access to the hardware.  All security protocols are part of the system.  TTA Grid offers custom visualization of multi-index data for any date range through its state-of-the-art interactive web interface. The system has the click, zoom and visual query index search options. The web interface also enables to download data at all levels of processing, ranging from the acquired raw data to the monthly or annual multi-station reports.
TTA Grid can be utilized for a specific study or a project as well be implemented as part of the permanent workflow.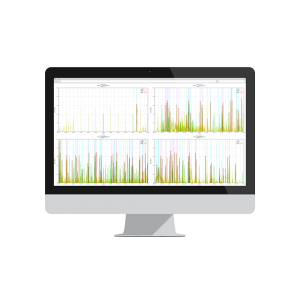 Systems
Highway Traffic Management System
TTA Road is designed for optimal operation and maintenance of highways, roads, garages, and parking spaces.
Governments and road operators need to maximize efficiencies, reduce bottlenecks, and use data to build predictive models. TTA Road measures all the necessary variables including humidity, temperature, noise, vibration, pollution, traffic flow and converts the data into an analytical decision-making tool. [progress_bar percentage="100" name="" value="" type="progress-striped active" colour="#e8e8e8"] [sf_button colour="accent" type="bordered" size="large" link="tel:+18447772722" target="_blank" icon="fa-phone-square" dropshadow="no" rounded="no" extraclass=""]FOR MORE DETAILS CALL 844 777 2722[/sf_button] [sf_button colour="accent" type="standard" size="large" link="/contact/" target="_blank" icon="sf-im-right" dropshadow="no" rounded="no" extraclass=""]TALK WITH AN EXPERT[/sf_button]