Delta Ohm HD 2101.2
Hygro Thermometer
The HD2101.1 and HD2101.2 are portable instruments with a large LCD display. They measure relative humidity and temperature using a Pt100 sensor or thermocouple humidity/temperature combined probe.
FOR MORE DETAILS CALL 844 777 2722
TALK WITH AN EXPERT
The HD2101.1 and HD2101.2 models are fitted with an RS232C serial port and can transfer the acquired measurements in real time to a PC or to a portable printer
The Max, Min and Avg function calculate the maximum, minimum or average values
Other functions include: the relative measurement REL, the HOLD function, and the automatic turning off that can also be excluded
The instruments have IP67 protection degree
Temperature only is measured by immersion, penetration or contact probes. The sensor can be a Pt100 or Pt1000.
When the humidity/temperature combined probe is connected, the instrument calculates and displays the absolute humidity, the dew point, the partial vapour pressure, and the comfort indices. The probes are fitted with an automatic detection module, with the factory calibration data already stored inside.
The HD2101.2 is a datalogger. It stores up to 38,000 samples which can be transferred from the instrument connected to a PC via the multi-standard RS232C serial port and USB 2.0. The storing interval, printing, and baud rate can be configured using the menu.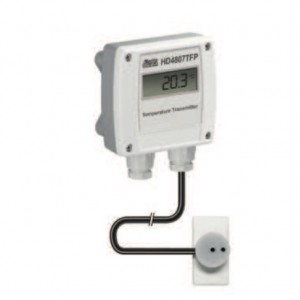 Delta Ohm
Active and Passive Temperature Transmitters for Solar Panels
HD48... active and HD49.. passive temperature transmitters complete with contact temperature probe for solar panels with 5 or 10m cable, 1/3DIN thin-film Pt100 sensor. [progress_bar percentage="100" name="" value="" type="progress-striped active" colour="#e8e8e8"] [sf_button colour="accent" type="bordered" size="large" link="tel:+18447772722" target="_blank" icon="fa-phone-square" dropshadow="no" rounded="no" extraclass=""]FOR MORE DETAILS CALL 844 777 2722[/sf_button] [sf_button colour="accent" type="standard" size="large" link="/contact/" target="_blank" icon="sf-im-right" dropshadow="no" rounded="no" extraclass=""]TALK WITH AN EXPERT[/sf_button]

$

253.00