Delta Ohm HD 2178.1
Pt100 and TC Input Thermometer
HD2178.1 and HD2178.2 are portable instruments with a large LCD display. These instruments measure temperature by means of immersion, penetration, contact or air probes with Pt100 or thermocouple probes.
FOR MORE DETAILS CALL 844 777 2722
TALK WITH AN EXPERT
All models are equipped with RS232C serial port and are able to transfer the acquired measures, in real time, to a PC or a portable printer.
Functions Max, Min and Avg calculate maximum, minimum and average values.
Further functions are: REL relative measure, HOLD and automatic switching-off system, excludable.
You can connect a 3 or 4 wires Pt100 sensor or a 2 wires Pt1000 sensor to B input, a K, J, T, N, E type thermocouple to input A. Probes to B input, a 8-poles DIN45326 connector, are equipped with an automatic detection module, with the factory calibration settings already being memorized inside. A input is equipped with a miniature female polarized connector for thermocouple probes.
The instrument HD2178.2 is a data logger; it stores up to 80.000 samples that can be transferred to a PC when connected to the instrument through a RS232C serial port or a USB 2.0 port. It is possible to configure the storage interval, the printing and the baud rate by the menu.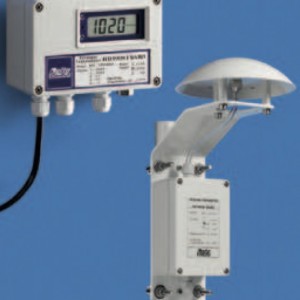 Delta Ohm
Barometric Transmitter
HD 9408T BARO, HD 9408TR BARO and HD 9908T BARO are analog output electronic barometers. They use a piezoresistive sensor element which gives extremely accurate and stable measurement of the atmospheric pressure and assures excellent repeatability, low hysteresis and very good temperature stability. [progress_bar percentage="100" name="" value="" type="progress-striped active" colour="#e8e8e8"] [sf_button colour="accent" type="bordered" size="large" link="tel:+18447772722" target="_blank" icon="fa-phone-square" dropshadow="no" rounded="no" extraclass=""]FOR MORE DETAILS CALL 844 777 2722[/sf_button] [sf_button colour="accent" type="standard" size="large" link="/contact/" target="_blank" icon="sf-im-right" dropshadow="no" rounded="no" extraclass=""]TALK WITH AN EXPERT[/sf_button]

$

253.00