Delta Ohm HD 9408 3B D
Barometric Transmitter
HD9408.3B is a barometric transmitter that uses a piezoresistive high accuracy and temperature-compensated sensor. It allows to measure the atmospheric pressure in the range from 500…1200 hPa, providing extreme accuracy and time stability, with excellent repeatability, low hysteresis, and excellent temperature behavior.
FOR MORE DETAILS CALL 844 777 2722
TALK WITH AN EXPERT
High accuracy temperature-compensated sensor with excellent stability
Wide temperature operating range
Various output options available (depending on model): analogue as current or voltage signal, digital as RS232, RS422, RS485, SDI-12
Standard protocols: MODBUS-RTU, NMEA, SDI-12
Watertight housing IP 67
The superior performance are obtained thanks to the employment of a piezoresistive Silicon sensor that integrates both a pressure sensitive as well as a temperature sen- sitive element.
The measurement of pressure and temperature are processed by a microprocessor to obtain an output signal that is compensated over the transmitter's whole, wide temperature operating range of -40…+85°C.
The sensor is factory calibrated at several points and at different temperatures in the range of use.
The instrument is particularly suitable for meteorological applications (AWOS – Auto- mated Weather Observing Systems), environmental monitoring systems, meteorological and environmental data logging, measurement laboratories, atmospheric pres- sure compensation in the performance of internal combustion engines, barometric pressure compensation in clean rooms, vehicle emission test.
Its low power consumption makes it ideal for remote acquisition systems such as automatic weather stations powered by solar cells.
DC power supply 10…30 Vdc.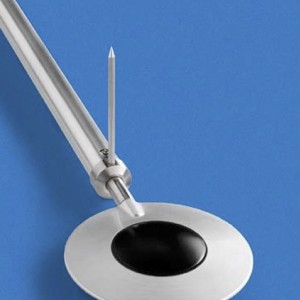 Delta Ohm
Net Irradiance Meter
LP NET 07 measures the net radiation across a surface, from near ultraviolet to far infrared. The Net radiation is defined as the difference between the radiation that reaches the upper surface and the irradiation on the lower surface of the net radiometer. [progress_bar percentage="100" name="" value="" type="progress-striped active" colour="#e8e8e8"] [sf_button colour="accent" type="bordered" size="large" link="tel:+18447772722" target="_blank" icon="fa-phone-square" dropshadow="no" rounded="no" extraclass=""]FOR MORE DETAILS CALL 844 777 2722[/sf_button] [sf_button colour="accent" type="standard" size="large" link="/contact/" target="_blank" icon="sf-im-right" dropshadow="no" rounded="no" extraclass=""]TALK WITH AN EXPERT[/sf_button]

$

608.00