Delta Ohm LP SD 18
Sunshine Duration Sensor
The Sunshine Duration sensor LP SD18 measures sunshine status and duration. The WMO (World Meteorological Organization) defines the sunshine duration as the time during which the direct solar radiation exceeds the level of 120 W/m2.
FOR MORE DETAILS CALL 844 777 2722
TALK WITH AN EXPERT
LP SD18.1: RS485 MODBUS-RTU output and volt-free contact output (contact closed = SRD ≥ 120 W/m2, contact open = SRD < 120 W/m2)
Based on the use of 16 sensors arranged in such a way that, in presence of sun, at least one of the photo-detectors is exposed to sun light directly from the sun (besides the diffusion component)
The cylindrical glass protects the sensors and the internal circuits of the instrument from the weather and at same time provides an excellent transparency to sun light
LP SD18 is supplied with a cartbridge that must be loaded with desiccant material in colloidal silica (Silica-gel)
The LP SD18 performs the measure of radiation with an array of photodiodes arranged in a particular geometry which allows to obtain an accurate measurement in any weather conditions.
This solution avoids the use of mechanical moving parts and ensures high reliability in the time.
The instrument, besides indicating the presence of sun as required by WMO, meas- ures also direct radiation (SRD), therefore it can be used as a low cost alternative to a pyrheliometer, which use is bound to a solar tracker.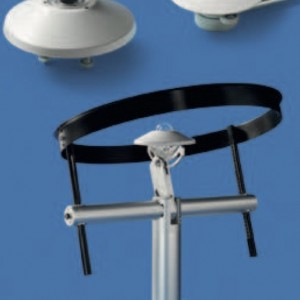 Delta Ohm
Second Class Pyranometer
Delta Ohm manufactures First Class LP PYRA 02 and LP PYRA 12 and Second Class LP PYRA 03 pyranometers which fully comply with ISO 9060 standards, and meet the requirements defined by the World Meteorological Organization (WMO). These are strong and reliable instruments, especially designed to be used under all weather conditions. They are suitable for installation on the field. [progress_bar percentage="100" name="" value="" type="progress-striped active" colour="#e8e8e8"] [sf_button colour="accent" type="bordered" size="large" link="tel:+18447772722" target="_blank" icon="fa-phone-square" dropshadow="no" rounded="no" extraclass=""]FOR MORE DETAILS CALL 844 777 2722[/sf_button] [sf_button colour="accent" type="standard" size="large" link="/contact/" target="_blank" icon="sf-im-right" dropshadow="no" rounded="no" extraclass=""]TALK WITH AN EXPERT[/sf_button]

$

608.00