Delta Ohm LP SYLICON PYRA 04
Pyranometer
The LP Silicon-PYRA 04. pyranometer measures the global solar radiation (W/ m2) by using a silicon photodiode (350nm-1100nm). The special geometry and the diffuser allow to have a pyranometer field of view of 180 degrees according to cosine law.
FOR MORE DETAILS CALL 844 777 2722
TALK WITH AN EXPERT
LP Silicon-PYRA 04 with 5m fixed cable and open wires on the cable end, typical output 20 μV/(W/m2). Different cable lengths available upon request
The photodiode current signal is converted into voltage through the shunt resistance
The measurement of radiation across a surface is possible if the probe surface is a Lambert receiver
The excellent concordance between the mesaured response and cosine law allows to use the equipment even when the sun has a very low elevation and the perform corrective actions throughout the year
The pyranometer is suitable for the measurement of natural sunlight. Under conditions of overcast sky or measures reflected light is recommended to use a thermopile pyranometer (model LP PYRA 03 or LP PYRA 02).
The LP Silicon-PYRA 04 pyranometer can be used in measurements of SOLAR RADIATION in the field of renewable energies such as solar thermal and solar photovoltaic.
The base with level LP BL (provided as an accessory) can be used to facilitate the assembly and placement in plan level.
The photocurrent generated by photodiode is converted into a voltage by the shunt resistance.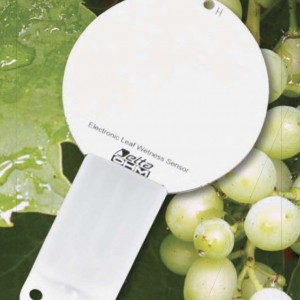 Delta Ohm
Leaf Wetness Sensor
The HD3901 leaf wetness sensor detects the presence of condensation on its sensitive surface and has been designed to reproduce in an extremely accurate way the thermodynamic behaviour of a leaf. The leaf wetness degree is a basic information in the agricultural and floriculture fields to determine the most appropriate phytosanitary treatment to prevent mould and fungal infections in general that can affect the plants and crops in the presence of condensation on the leaves. [progress_bar percentage="100" name="" value="" type="progress-striped active" colour="#e8e8e8"] [sf_button colour="accent" type="bordered" size="large" link="tel:+18447772722" target="_blank" icon="fa-phone-square" dropshadow="no" rounded="no" extraclass=""]FOR MORE DETAILS CALL 844 777 2722[/sf_button] [sf_button colour="accent" type="standard" size="large" link="/contact/" target="_blank" icon="sf-im-right" dropshadow="no" rounded="no" extraclass=""]TALK WITH AN EXPERT[/sf_button]

$

143.00